General Contractor Job Description
North America is ranked the second largest construction market globally with an overall industry expenditure amounting to $1,463.2 billion last year, which is approximately a 7.9% increase. When we think about the construction industry, the first thing that comes to mind is general contractors. But, who they are, and what do they do?
A general contractor (GC) or the prime contractor can be a person or an entity responsible for scheduling, managing, and handling the day-to-day activities of a construction project or a construction site. The contractor is responsible for the entire building project management right from managing the vendors and traders to handling the communication of every single detail across stakeholders.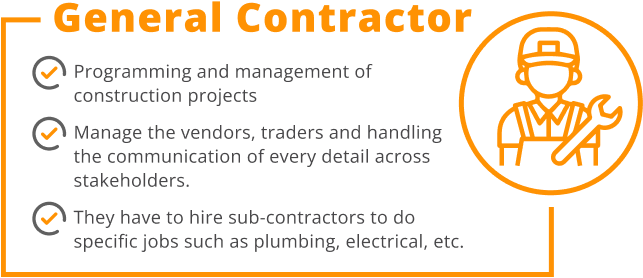 For large-scale projects, GCs are most often a construction agency that manages building projects for numerous clients. They further hire specialized sub-contractors or tradesmen for managing specific tasks such as plumbing, electrical, HVAC, concrete, etc.
In this article, we will discuss general contractors, what their licensing requirements are, and what responsibilities they perform in their day-to-day lives. So, let's get started.
General Contractor Licensing Requirements
The licensing requirements of general contractors, which empowers them to work legally on building projects, vary from state to state. No federal license is required for general contractors; however, individual states are responsible for defining their licensing requirements.
Most states require them to be licensed by a Contractors State License Board (CSLB), like in CA. States with mandatory licensing, except Louisiana, require a surety bond as one of the requisites for the licensing process.
Some states, for example, Florida, have the most substantial list of licensing requirements, whereas the state of Texas imposes no state-level license requirements for general contractors.
Similarly, no formal certification is required for GCs in the state of Maine, New Hampshire, Vermont, to name a few. You must check local licensing requirements before starting any project.

Moreover, HVAC installation subcontractors require a specific license that differs from locale to locale. So, before you begin any work, it is recommended to check the local requirements though.

Having a bachelor's degree with majors in construction management, business, or general studies is a plus. It's not mandatory though.
Apart from all the above requirements, a general contractor is required to verify its financial credibility along with submitting proof of employee's compensation insurance.
Specific Responsibilities of a General Contractor
Before the commencement of a building construction project right to its completion, the contractor is responsible for handling multiple roles that include planning, distributing, executing, administering, and inspecting various tasks.

Project Management
A general contractor is liable to complete the construction process within the specified time frame. General contractors are also required to work with different stakeholders while coordinating with employees, operating within budget, and monitoring the entire construction project. Various activities and tasks that need to be accomplished on time include:

Ensuring sufficient funds are available to keep the workflow consistent from initiation to completion
Purchasing, renting or leasing construction equipment when required as well as hiring subcontractors for specialized work
Creating and maintaining progress reports, maintaining contract documents, and managing payments to subcontractors and other workers
Collaborating with the property owner and other external stakeholders to inform about construction site updates and work progress status
Purchasing raw material for construction project with enough anticipation to ensure the process keeps moving
Construction Management
Being a general contractor, you should review the construction project in-depth, estimate costs, and schedule deliverables. You should manage onsite and offsite construction duties while monitoring compliance and other regulations. General contractors may or may not be the construction manager, but is accountable for performing all relevant duties that include:

Managing the overall construction process and construction companies right from conception to completion
Undertaking all the activities of a construction site, as the construction manager isn't always available to manage the day-to-day operations
Making arrangements for labor, equipment, subcontractors, etc. while monitoring their quality of work and ensuring safety measures
Project Planning
A master schedule drives all the activities of the construction project and explains details of various tasks, such as time distribution, among various stages of development, budgeting, and more. Each activity has a completion date and if the contractor and subcontractors fail to meet the deadline, the penalty applies. As far as the project planning is concerned, the responsibilities of a general contractor include:

Planning significant development and delivery details along with forecasting raw material and construction equipment requirements
Developing risk mitigation strategies and meeting legal and regulatory standards at various phases of construction
Maintaining contract documentation and establishing clear and effective communication between the company, subcontractors, and all other stakeholders.
Subcontractors
A number of specialized subcontractors, vendors, suppliers, architects, consultants, and design professionals are appointed on the construction site to handle specific tasks. The general contractor is responsible for managing and coordinating all these parties on the project site. Other duties include: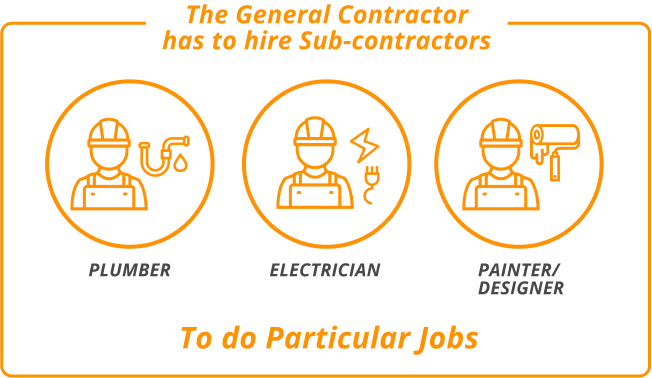 Communicating and coordinating with electricians and HVAC professionals to keep all tasks in a flow while ensuring compliance with the industry's safety standards.
Hiring plumbers and pipefitters to work on assembling and installing the pipe system as given in the site plan in a timely manner.
Coordinating with design professionals and painters to relay important information on the construction work, as required.
Building Permits and Building Codes
General contractors deal with a handful of responsibilities in the field of legal and regulatory issues, one of which includes acquiring building permits and licenses from the concerned authorities. Apart from these, they are accountable for:

Informing property owners about arranging necessary facilities, ensuring premise security, managing site waste, etc.
Understanding the legal requirements for the building and meeting all statutory obligations applicable to construction, design, and operations
Ensuring that legal rights are not challenged in any way and applicable building codes are followed throughout the construction process
Health and Safety Issues
Subcontractors may hold little insurable interest, but they need to be included as insured in the builder's risk policy. If the completed construction portion of the project is lost or damaged, the property owner will likely expect the general contractor to make repairs or replacement, regardless of who was at fault.
General contractors must guarantee the health and safety of employees on the job site by ensuring that adequate procedures are in place and that the workers are aware of best safety practices. Several responsibilities in the area of health and safety in general contracting include:

Construction worker's safety by acknowledging proper operation of construction equipment
Preventing any accidents and mishappenings from misuse of machinery drills, mixers, cranes, vibrators, and cutters
Ensuring that all the employees and subcontractors utilize safety equipment while handling minor as well as risk-intensive tasks
Get Your Responsibilities Covered Through Contractors Liability
Contractors Liability provides you and your employees legal and medical coverage in case of on-site injuries and mishaps. Our general contractor's liability insurance protects you and your contractor business against certain claims that can cause significant financial losses.
Our insurance cover is affordable, easy to understand, and offers comprehensive protection. General contractor's insurance is meant to protect the GCs financially, socially, and emotionally against the unexpected.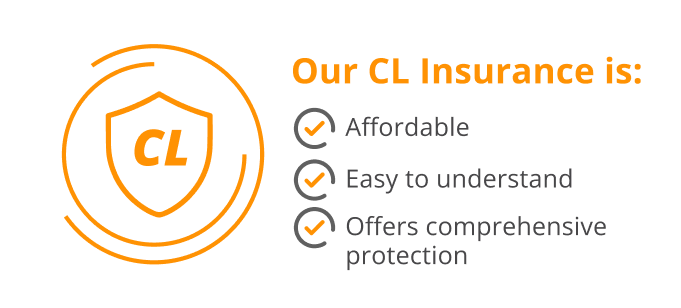 Whether you are a startup or a corporate contractor, we will provide you with only the best coverage plans. With years of experience in dealing with small to large-scale general contractors, we understand that everyone wants the insurance processes to be as simple as possible.
Protect your business, assets, and employees against liability claims. Contact us today to speak with our general contractors liability insurance experts. Feel free to ask any questions you may have regarding the insurance coverage plans and our team is happy to answer your queries.