Affordable General Contractors Insurance
At Contractors Liability we make sure your liability insurance requirements are being met with cost-effective solutions.
We work with top-rated insurance carriers to find you the best coverage at the lowest price. We can have your policy issue in a few hours.
Do not take the risk of not having insurance. Take a look at our video "Contractor's Liability coverage and endorsement"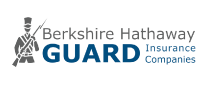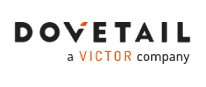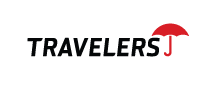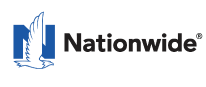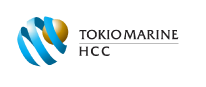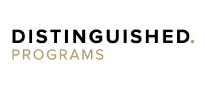 Get Fast Quote
Add details for the fastest quote

Call Us 24/7
We'll answer at any time, call us.

Customer Service
Certificate of Insurance
What Is General Contractor Insurance?
General liability insurance protects you against claims made by your client or third parties. This is for any damage that may have been caused by the contractor or their employees. This policy is a must-have when you establish your contracting business.
In most states, general contractors are required to carry general liability insurance in order to pull a permit or register as a general contractor.
Many clients will not let you start work without a policy, especially on larger projects.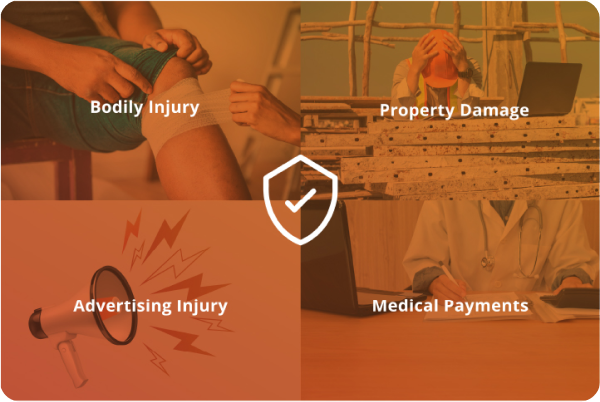 Get Your Free General Contractor Liability Insurance Quote
Only 5 minutes of your valuable time. We can often get same day coverage.
Instant Free Quote
General Liability Insurance Cost
It is difficult to calculate the exact value of General Contractor General Liability Insurance because no two General Contractors do exactly the same type of work and the same amount of work.
However, at ContractorsLiability.com we make sure your liability insurance requirements are being met.
These are the main factors in how Insurance companies determine your premium.
Type of work being performed
Amount of revenue of the company.
The number of employees.
Amount of coverage requested.
The prior loss history(ie. Have there been insurance claims in the past 5 years).
General Contractor Insurance Rates And Coverage
This table displays typical rates and coverage for General Contractor General Liability for $1 Million/$2 Million Policy.
| State | Coverage | Next Insurance | Ace Insurance | Rockingham | PCIC | United Specialty | Shield |
| --- | --- | --- | --- | --- | --- | --- | --- |
| IL | 1M/2M | $830 | $960 | $1560 | $760 | $760 | No Coverage |
| TX | 1M/2M | $850 | $760 | $1240 | $810 | $660 | $890 |
| CA | 1M/2M | $950 | $940 | $1750 | $760 | $830 | $1300 |
| NY | 1M/2M | $1220 | $1320 | No Coverage | $980 | $1150 | No Coverage |
| CO | 1M/2M | $730 | $740 | No Coverage | $650 | $670 | No Coverage |
| GA | 1M/2M | $680 | $720 | $1460 | $640 | $1150 | $1150 |
| MO | 1M/2M | $740 | $690 | $1560 | $630 | $630 | $1230 |
| KS | 1M/2M | $750 | $680 | $1540 | $645 | $590 | $1130 |
Annual premium above includes unlimited certificates of insurance.
Rating assumes 150,000 gross revenues for General Contractor/general contracting with 10% subcontractor costs.
Premium are subject to underwriting approval and financing charges may apply.
Reputation Matters
Our customers trust us for great customer service and cost-effective coverage.
What Does General Liability Insurance Cover?
This policy covers against claims made by their clients and/or third parties for any damage that may have been caused by the contractor or their employees.
General contractors realize that there are risks associated with the work they do and take painstaking measures to ensure safety and their reputation. They usually will go above and beyond to protect their clients and third parties from suffering a loss.
General contractors know that this is how they can differentiate themselves from their competitors and make the business grow. But no matter how vigilant you are, accidents and losses happen. That is the reason why general liability coverage exists.
Here are some of the types of damages contractors experience that are covered by general liability insurance:
Injuries to the Body:

Injuries made directly to the body of a third party at your worksite.

Example: A piece of unsecured equipment falls off the roof and hits a client or third party in the head, causing a concussion or a broken shoulder.

Property Damage:

This covers property damage to your client's property or a third parties property.

Example: You are repairing a client's chimney and it collapses and falls onto the neighbor's house.

Harm to Reputation

Helps protect your business against certain claims of false arrest, malicious prosecution, libel, slander, wrongful eviction, violation of the right of privacy and more.

Example: You use pictures of your work in your promotional materials and inadvertently have images of people in the background and you do not have their consent. They sue your business you have coverage.
Advertising Mistakes:

Helps protect your business from claims if others allege you infringed on their copyrights when advertising goods, products, or services in your advertising campaigns, social media, or websites.

Example: You use the brand name of a product that you install after talking to the company representative over the phone. You are unaware that they require a written authorization to use their name brand on any media not provided by them.

Medical Payments:

Helps cover medical costs if someone is injured on your business premises and needs medical treatment.

Example: The client comes to your shop to discuss a project and an employee does not see her and hits her with a skip loader.

Damage to premises rented to you:

Helps protect your business against certain claims for damage to premises rented to you due to certain types of loss.

Example: You operate a General Contracting company out of a warehouse you rent. You have a number of battery-operated tools that you recharge every night. The batteries overheat and cause a fire.
What Is Not Covered By General Contractor's Insurance?
Here are some situations that would not be protected by general liability insurance coverage.
Employee injuries:

Workers Compensation is the insurance you would need to protect your employees when they are hurt on the job.

Example: Your General Contracting Company is installing some siding and the employee falls off a ladder while installing the siding breaking his leg. This is not covered.

Professional mistakes:

Errors and Omissions Insurance or Professional Liability Insurance offers coverage for this type of mistakes.

Example: It insures against mishaps that may occur as you offer your opinion, service, or recommendations in the course of business.

Auto-related coverage:

General Liability Insurance coverage does not protect you against auto accidents. You need to obtain a separate commercial auto Insurance policy to cover the vehicles used in your business.
Intentional acts:

General Liability Insurance does not cover damages or injuries resulting from intentional acts.

Example: An employee gets mad at a customer and drives a bulldozer into the side of their house, your business liability coverage would not cover the damages if they sue.

Your work:

Referred to as the "workmanship or Warranty" exclusion.

Example: You put a new roof on a house and do not properly attach the shingles. There are high winds 60 days later and half the shingles come off.

Punitive damages:

General Liability Insurance policies normally do not pay for punitive damages resulting from a lawsuit.
What Are The Requirements To Obtain General Liability Insurance?
Name and Structure of Business:

We will need the exact name of the business along with whether you are a Sole Proprietorship, Partnership, Corporation, or LLC. We would also need any DBA you may use.

Type of Work Performed:

Do you do residential or commercial work? If you do both what are the approximate percentages of each type of work. Is the type of work you do new construction or remodeling of existing structures. Again if you do both an estimate of the percentage of each type.

How Long Have You Been In Business or Experience:

We will need to know how long you have been in business. If you have been in business for a while we will need what is called loss runs. These can be obtained from your previous insurance company. These are reports that give a detail of any claims your business may have had. At Contractors Liability we can help you obtain these if you want us to do so.

Do not worry if you are a new business. We specialize in getting General Contractors General Liability Coverage for new companies. The only thing we would need is a little information on your work experience in the construction industry

The number of Employees and Payroll:

We would need to know the number of employees in the business and Payroll.

Gross receipts of the Business:

The previous 12 months gross receipts and an estimate of the next 12 months gross receipts. It is always best to give a conservative estimate of future earnings. However, be aware that most insurance companies will perform an "audit" after the policy term to determine what the exact revenue was. If you estimated to low you will be given a bill for the difference.

Do You Require Sub-Contractors to Name Your Business as Additional Insureds

If you use sub-contractors, it is a best practice to always require them to provide you a certificate of insurance naming your business as an additional insured before you allow them access to the job site?

There are many good reasons to require this, but the two most important are that if you have a certificate of insurance from them any amount you pay them with not be counted towards your revenue during your insurance audit. Another reason is that if the cause of any incidents where a claim is filed it will go against their insurance rather than yours. As you know if you have claims insurance premiums rise.

Policy Limits

The lowest limit General Contractor General Liability Insurance policy we sell is $1,000,000 Occurrence $2,000,000 Aggregate. This is the standard industry amount.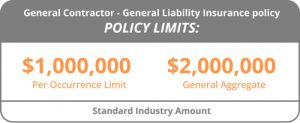 Some States allow for lower limits, but the savings are too small to justify issuing those policies. For example, a $300,000 Occurrence $600,000 Aggregate policy will only result on average less than $50 per year in premium. It is not worth the risk to save a few bucks.

Large Policy Limits

In some instances, you may need higher limits as a result of contractual obligations. These higher limits will be found in the insurance section of any contract you are negotiating. It is always best to forward this section to your agent so that they can get you exactly the coverage the contract calls for.

Licenses

If your State requires General Contractors to be licensed you will be required to provide your license number or a copy of your license.

Signature

You will need to review and sign the application and send it back.

Payment Options

At ContractorsLiability.com we offer a number of convenient payment options for your General Contractors General Liability Insurance Policy. We can accept Debit Cards, Credit Cards, and Checks. We have a number of financing options as well. We will work with you to get you set up with the payment plan that is right for your business.

At ContractorsLiability.com we make it easy to get cheap and affordable General Contractors General Liability Insurance. We will be able to issue your certificates of insurance right away so you can get to work.
Frequently Asked Questions (FAQ)
The following are common questions about General Contractor Insurance.
It is difficult to calculate the exact cost of general liability insurance because each general contractor has different work schedules and types of projects they are working on. Common factors that influence the cost of a liability insurance policy include the type of work performed, revenue, number of employees, the scale of coverage requested, location of company, and the company's prior loss history (have there been insurance claims in the last 5 years)
At Contractors Liability, we make sure your liability insurance requirements are being met with cost-effective solutions. We work with top-rated insurance carriers to find you the best coverage at the lowest price. Contact us today for a free quote that takes your unique needs into account.
This is one of the most important forms of insurance for your contracting business. This is because:
In most states it is required by law and you cannot get a contractors permit without it
Without coverage your business can close due to the very high cost of a lawsuit
Many clients insist on it. They want reassurance that it an accident occurs your business will not close and the work will be complete
There are many insurance agencies out there, and you might be tempted to go with the one you see constantly advertised on the television or even one that is closer to home.
However, Contractors Liability is certain that if you want the best policy, you need to work with specialized agents like ours. Along with our customer satisfaction guarantee, we:
Work with A-rated insurance companies, to get you service that you can trust.
Provide you with customer service, tailored to your needs from a licensed insurance agent.
Create a customized General Contractor General Liability Insurance policy that fits with your needs.
Provide you with the lowest price for the best coverage out of any of our competitors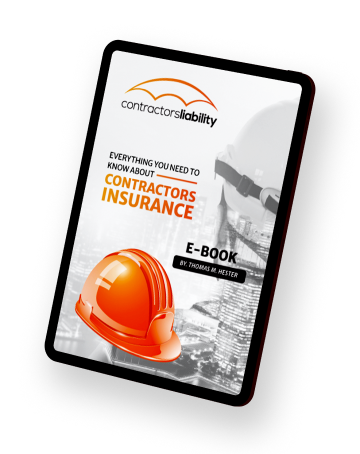 E-Book Now Available
Learn the nuts and bolts of Contractors Insurance and how to protect your staff, your business and you.
Read Now
ContractorsLiability.com is here to help with all your insurance coverage needs, including specialized plans and tailored insurance policies. All our highly trained agents can help you in English or Spanish.


At Contractors Liability we value and respect your privacy. That's why we don't sell or share your information with any third parties and we only use it for our commercial purposes.