In the few paragraphs below these changes will be explained. So Keep Reading to avoid any penalties and fines!!!!
The Legislature has created a new licensing category of construction contractors called licensed plumbing contractors. Starting July 1, 2021 only contractors with this license can do plumbing work.
To be licensed, plumbing contractors will be required, among other things, to carry both a:
Washington Continuous Contractor Surety Bond
You will need a bond in the amount of $6,000. The Washington Plumber's Bond is usually under $200 a year if your credit is good above 700 and no bankruptcies. These bonds can be issued in a matter of minutes and can be emailed to you.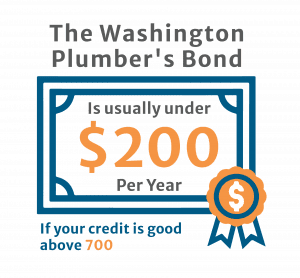 General liability insurance
General Liability Insurance policy covering up to:
$50,000 for injury or property damages, $100,000 for injury or death to one person, and
$200,000 for injury or death to more than one person.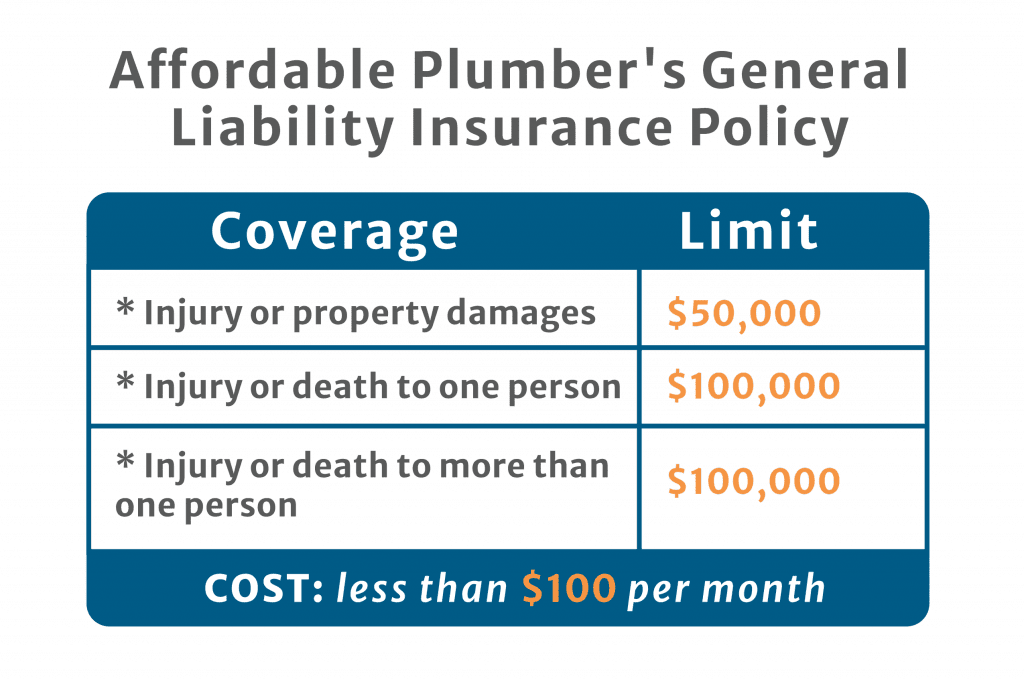 A Plumber's General Liability Insurance Policy can be purchased in most cases. This will allow you to be in compliance with the new law. It will also protect you from any fines or penalties for operating your business without the proper insurance.
OR
$250,000 combined per occurrence
Pro Tip: At ContractorsLiability.com we have you covered for Low-Cost Washington Plumbers General Liability Insurance. We only sell policies that exceed the State minimum requirements. Our reasoning behind this is simple. The annual premium savings from the State minimum and $1,000,000 in coverage is usually less than $50 a year; it makes no sense to save those small dollars and give up the protection afforded by the high limits.
The new plumbing license is a big change for current general construction and specialty plumbing contractors. They will no longer meet state requirements to perform plumbing work under their current contractor registration.
The Washington State Department of Labor & Industries (L&I) is implementing the new law.
Here is some information about the new law from L&I that may help you:
L&I will no longer register contractors under the "construction contractor specialty plumbing" category starting July 1, 2021.
If contractors with that existing registration want to become licensed plumbing contractors, they must obtain a new bond for the new license.
Some contractors may want to obtain the new plumbing contractor license and maintain their general construction contractor registration.
A separate bond will be required for each registration and license.
Contractors can use their liability insurance to meet both general construction contractor registration and licensed plumbing contractor requirements.
However, they must submit separate certificates of general liability insurance for each license and registration showing the correct L&I program as the certificate holder.
As an example:
A general construction contractor's certificate of insurance would name L&I Contractor Registration Section as a policyholder.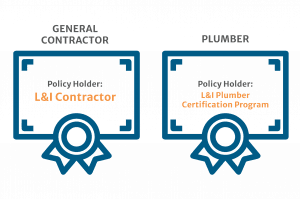 A licensed plumbing contractor's certificate would name L&I Plumber Certification Program.
Why Should You Choose ContractorsLiability.Com For Washington Plumber's General Liability Insurance?
Many insurance agencies are equipped to deal with only the most basic insurance coverage, like general liability, auto insurance, and worker's compensation. But as our namesake suggests, ContractorsLiability.Com is equipped to address any Washington Plumbing Insurance question for any type of Plumbing Business. We understand contractors and the immense risks they take when they provide their necessary services. In return, we help them find the rates and policies that work for them.
We also provide the following:
The finest Comprehensive plans for your Plumbing business
Licensed insurance agents that are knowledgeable
Same-day coverage in most instances
Coverage from A-rated insurance companies
Ability to offer policies specifically designed to meet L&I Plumbers Insurance requirements
The lowest price for the best Plumber's General Liability Insurance coverage in the industry
Ability to provide Plumber's Surety Bonds in minutes so you can get permits pulled and work started
Plumbers deserve complete coverage as they keep their clients and jobs flowing smoothly. ContractorsLiability.Com is here to help with all your insurance coverage needs, including specialized plans for Cheap Plumber's General Liability insurance. For more information, contact us via web or call us at (866) 225-1950 for a quote in five minutes.