Ohio Plumbers Insurance
Get the insurance you need – fast, cheap and easy!
At Contractors Liability, we offer tailored policies for Ohio Plumbers Insurance, and you can include Commercial Auto, Inland Marine, Worker's Compensation, Business Owners Policy (BOP), Umbrella Insurance, Surety Bonds & much more.
Among the policies you might need, you could find:
Business Owner's Policy (BOP)
Commercial Auto Insurance
Inland Marine Insurance
Workers' Compensation Insurance
Commercial Umbrella Insurance
Plumbers' Surety Bonds
To protect your business, it is essential to understand the variety of insurance options available to plumbers. Each policy, whether it's the Business Owner's Policy (BOP), which covers both general liability and property damage or the specialized Inland Marine Insurance, which protects your tools, is tailored to address the specific risks inherent in the plumbing profession. Comprehensive coverage not only protects your business from unforeseen financial burdens but also demonstrates your commitment to professionalism and your customers' and employees' well-being.
Business Owner's Policy (BOP) for Plumbing Contractors in Ohio
A BOP is a comprehensive insurance package specially designed for small to medium-sized businesses. For plumbing professionals in Ohio, this policy is tailored to fit the nuanced risks of the trade. Here's what it typically covers: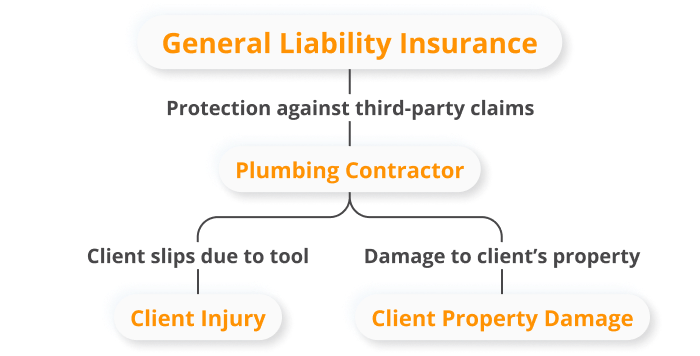 Commercial Auto Insurance for Plumbing Contractors in Ohio
Ohio's diverse landscapes and urban centers make for varied driving conditions. Plumbing installations need an insurance policy tailored to their specific needs and their unique challenges on Ohio's roads. By investing in comprehensive commercial auto insurance, plumbing professionals in Ohio not only comply with state regulations but also secure the future of their businesses.
Why is Commercial Auto Insurance Crucial for Ohio's Plumbing Business?
State Requirements: Ohio law mandates all vehicles, including those used for business purposes, to have at least the minimum liability coverage.
Asset Protection: Vehicles, especially those customized for plumbing work, represent a significant investment. Commercial auto insurance can help cover repair or replacement costs after accidents, theft, vandalism, or weather-related incidents.
Liability Coverage: If your business vehicle causes an accident, there's a chance you could be held liable for bodily injuries or property damage. Commercial auto insurance provides coverage against such liabilities, ensuring that one accident doesn't cripple your business financially.
Medical Payments: If you or your employees are injured in an auto accident while on the job, commercial auto insurance can help cover medical expenses, irrespective of who's at fault.
Uninsured/Underinsured Motorist Protection: Unfortunately, not every driver on Ohio's roads has adequate insurance coverage. If an uninsured or underinsured driver hits your business vehicle, this protection ensures you're not left footing the bill.
Equipment and Tool Coverage: Plumbers often transport a variety of tools and equipment in their vehicles. Commercial auto insurance can be tailored to cover these valuable assets if damaged during an accident or stolen.
Business Continuity: An accident or vehicle theft can severely disrupt operations, leading to lost income. With the right commercial auto insurance, plumbers can return on the road faster, minimizing business interruption.
Inland Marine Insurance for Plumbing Contractors in Ohio
Ohio, the heart of the Midwest, is bustling with activity, and its plumbing contractors are an essential part of its infrastructure development and maintenance. Protecting these valuable assets becomes crucial with tools and equipment often on the move. Enter Inland Marine Insurance – a safeguard designed explicitly for the modern-day Ohio plumbing contractor.
Why is Inland Marine Insurance Essential for Plumbing Contractors in Ohio?
On-the-Go Coverage
Protection Against Unforeseen Incidents
Job-Specific Tool Coverage
Flexible Storage Coverage
Replacement Cost Coverage
Business Continuity
Enhanced Credibility
Workers' Compensation Insurance for Plumbing Contractors in Ohio
Workers' Compensation Insurance, commonly referred to as Workers' Comp, is a type of insurance that provides wage replacement and medical benefits to employees injured during the course of employment in exchange for the mandatory relinquishment of the employee's right to sue the employer for negligence.
Why is Workers' Compensation Insurance Crucial?
Legal Requirement: In many jurisdictions, businesses must carry Workers' Comp insurance if they have employees.
Financial Security: Without Workers' Comp, employers might be responsible for paying out of pocket for employee work-related injuries or illnesses. This insurance protects a business's finances from such unforeseen expenses.
Protects Employees: By providing medical care, wage replacement, and other benefits, Workers' Comp ensures employees are cared for in case of workplace injuries or illnesses.
Safeguards Business Reputation: Demonstrating a commitment to employee well-being can enhance a company's image and make it a more attractive employer.
What Doesn't Workers' Compensation Insurance Cover?
While it's a comprehensive coverage, there are scenarios typically not covered:
Injuries sustained while an employee was intoxicated or under the influence of illegal drugs.
Injuries sustained in a fight started by the employee or due to the employee's horseplay.
Injuries suffered while an employee was committing a crime.
Injuries sustained while an employee was not on the job.
Commercial Umbrella Insurance for Plumbing Contractors in Ohio
While Ohio, like many states, has its own set of regulations and industry standards for plumbers, the inherent risks remain similar across regions. However, the local legal environment, claim history, and specific challenges faced by Ohio's plumbers make it essential to have an insurance policy tailored to the state's landscape.
Core Advantages of Commercial Umbrella Insurance for Plumbers:
Extended Liability Coverage: This insurance augments your existing liability coverages, including general liability, auto liability, and workers' compensation. When the limits of these primary policies are exhausted, your umbrella policy steps in, ensuring that large claims don't destabilize your financial foundation.
Broadened Coverages: Beyond merely enhancing existing limits, Commercial Umbrella Insurance might offer protection against certain claims not covered by your other liability policies.
Cost-effective Protection: One significant lawsuit or claim can cripple a plumbing business. Umbrella insurance offers a cost-effective way to get higher liability limits, often at a fraction of the cost of increasing individual policy limits.
Specific Scenarios Where Umbrella Insurance Proves Vital:
A major accident involving your plumbing service vehicle results in significant property damage and bodily injury. The claims exceed your commercial auto policy limits.
While performing a plumbing job, unintentional damage to a client's property leads to an extensive legal battle with claims surpassing your general liability coverage.
Plumbers' Surety Bonds in Ohio
A Plumber's Surety Bond is not insurance in the traditional sense. Instead, it's a three-party agreement involving the plumber (principal), the state or client (obligee), and the surety company. This bond guarantees that the plumbing contractor will perform their duties ethically and in accordance with Ohio state regulations and codes.
Purpose
The bond protects consumers from potential financial loss resulting from a plumber's failure to meet contractual obligations or state-mandated standards.
Benefits to Plumbing Contractors:
Enhanced Credibility: A surety bond conveys to potential clients that the plumber is serious about their profession, committed to upholding state standards, and prepared to stand behind their work.
Business Opportunities: Many Ohio jurisdictions require plumbers to be bonded before they can bid on public or private contracts. Being bonded broadens the avenues of opportunities available to plumbers.
Your Insurance Questions Answered for Ohio Plumbers Insurance
Get answers to your most common questions from Contractors Liability
In most States Plumbers are licensed at the State level. This is largely due to the strong public health concerned with plumbing. There is usually a rigorous examination that must be passed and a minimum insurance requirement. Sometimes general liability insurance is not required; however, it is highly recommended that you obtain affordable Plumber's General Liability Insurance That way, in case of an accident of which you are culpable, your reputation and your assets are covered.
No. Worker's compensation is a type of insurance that covers employees, and that is a separate policy. Plumber's General Liability Insurance covers only third parties and their property in the case of an accident. However, you will need to purchase a worker's compensation policy for your plumbing employees if you want them to be covered.
If your State requires it you will lose your license and be subject to administrative action. If you have a claim you will have to cover all the costs of the claim, including attorney's fees from your own funds. This could easily result in you losing everything you own.
As compared to other trades it is about the middle of the pack. It is less expensive than Roofer's insurance but more than a drywall contractor. It certainly is not expensive if you have a claim.
We understand that it is hard to work in a trade that requires so much time and management for seemingly thankless jobs. To thank you for your service, we offer plumbers:
A-rated insurance policies from insurance companies that you know and trust.
Customized plans that cover all potential problems plumbers might face.
Help from licensed and knowledgeable insurance agents who possess backgrounds in contracting work.
Prices that are affordable while providing comprehensive coverage.
Reputation Matters
Our customers trust us for great customer service and cost-effective coverage.