What is a Workers' Compensation policy?

For a better understanding of a ghost policy, let us first understand what a workers' compensation insurance policy is. Workers' compensation is a type of insurance policy that provides wage replacement and medical benefits to employees injured while doing their job.
The employees, in return, will waive their rights to sue the employer for any form of negligence on their part. Workers' comp policy is based primarily on the type of risk the contractor/company is exposed to and their payroll.
What is a Ghost Policy?

A workers comp ghost policy, also known as an "if any" policy, is a workers' comp insurance policy for contractors with no employees on their payroll.
It is referred to as a ghost policy because there are no employees hired by the business to be covered under a workers' compensation insurance policy.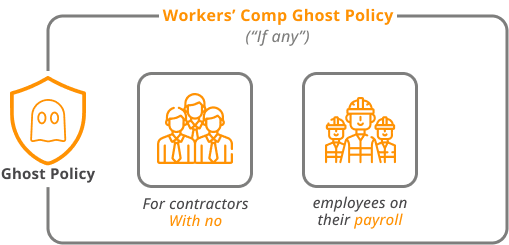 Why do you Need to Have a Ghost Policy

Contractors usually purchase a ghost policy because most projects require proof of a workers' comp policy either by the project manager or state law.
That is mandatory to ensure that, in the event of the subcontractor hiring an employee, they can provide coverage for the employee.
For example, if a subcontractor bids for a project and gets the job, the general contractor will require them to provide their own workers' comp coverage.


If they do not, they can lose the project, regardless of whether or not they have employees on their payroll. Ghost policies are recommended to contractors who work independently and have individual coverage but must show proof of workers' compensation insurance coverage.
However, some insurance carriers cover any sub-contractors you 1099 throughout the policy period that do not provide proof of insurance naming you as additional insured.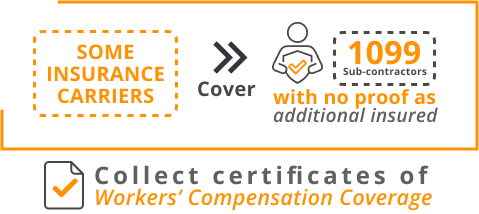 It also includes the company that employs you to do the job; they are required, as you are, to collect certificates of insurance showing that any subcontractors hired have workers' compensation coverage.
If they fail to collect these certificates, the amounts paid to these subcontractors will be treated as additional payroll for workers' compensation purposes.

If the subcontractor is covered with a workers comp ghost policy and not workers' compensation, any hired employees will not be covered for wage replacements, medical or indemnity benefits if injured on the job site.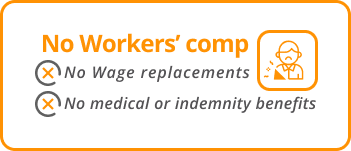 Understanding the type of policy provided by a subcontractor before hiring is essential.
Suppose your contractor is covered with a ghost policy, not a full workers' compensation policy. In that case, you must confirm with each new employee that they are providing their own liability insurance coverage.
How does a Ghost Workers Comp Policy Work?

The bill for an average Workers' comp insurance policy depends on the classes of employees and the type of work they do on a percentage basis of payroll.
For example, if a roofer has a 15% rate of payroll, for every $100 you pay them as your employee, you would pay $15 in workers comp coverage.
However, you would have to pay nothing if, instead of an employee, that same roofer is a 1099 subcontractor with workers' compensation insurance naming your business as additional insured.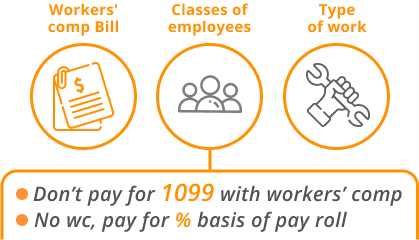 The problem arises when you have a 1099 employee that does not have workers' compensation insurance. In this case, they fall under your policy, and you will have to pay for workers' compensation as if they were an employee.
That is because if they were injured, your "if any" policy would cover everything under a standard workers' compensation, like the injury, lost wages, retraining, etc.

The insurance company is at risk of your sub-contractor getting hurt, and on the audit, after your policy period ends, they will charge you for this risk. If you are not planning for this, it is a bad day. So let's look at this audit and how insurance is billed.
Projected vs Actual
Your application is simply a projection of your business for a year regarding the number of employees, payroll, payroll class, coverage, and gross revenue. It does not reflect what your premiums will be in reality.
The actual premium is made every year about two months after the end of the policy period, at an audit required per your application.
The premium you agree to at the application means nothing until it is audited.
If your payroll is less than projected, you will get your money back at the audit. If your payroll is more than projected, you will have to pay more. Most people understand this and agree with this.
| Projected | Actual |
| --- | --- |
| The number you think you will have | The real number |
| Approximate or average | If less than projected: you will get your money back |
| The coverage you want and choose | If more than projected, you will have to pay for the excess |
| | The same coverage you picked and any additions you made through the year |
| | The real number |
The major problem we have run into in audits is the lack of certificates of insurance naming you as additional insured. Simple as that.
Uninsured sub-contractor = Employee
That said, if you hired our roofer and paid him 30,000 and he did not have insurance coverage, you would owe 15% (4500 dollars), and the money is due within 30 days, or your policy gets canceled.

If you let this happen, you will be in a database of unpaid audits by your name and birthday, and it will not be possible for you to obtain workers' comp insurance from any company, for all insurance companies subscribe to this database.
State Requirements and Limitations
Workers' compensation needs vary from contractor to contractor, as well as from state to state. Most states require contractors to provide a workers' compensation policy; however, only certain states accept ghost policies as a fulfillment of this requirement.
Regardless of your state's requirements, if you are a contractor who regularly employs subcontractors or other employees, obtaining a complete workers' compensation policy is mandatory to provide coverage and benefits for your employees in the event of an accident.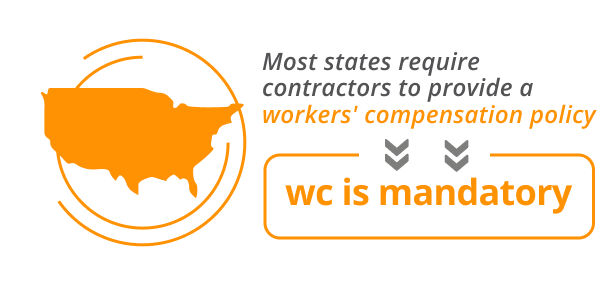 Since the price of a workers' compensation policy is based on payroll, ghost policies are the market's most affordable type of workers' compensation policy and, therefore, easily abused.
In an accident, your workers must have adequate coverage; without sufficient workers' compensation, you could be held personally responsible for wage losses and medical expenses.
How much is a Workers Comp Ghost Policy?
The cost of these workers comp policies is around $1200, but it depends on your state.
Understanding this cost is protecting your customers as much as you. You need to ensure you are correctly figuring out the cost of your labor and passing that cost on to your customer. In our roofing situation, adding 20% to your labor costs for insurance would be a good idea.

Furthermore, ensure your application is still in line by evaluating your year halfway through and checking your projections. Be strict about your certificates of insurance; if someone does not have it, charge them for it, and set money aside for the additional audit.
You can pass this cost on to your customers if you plan correctly. If you do not, the subcontractors will rarely come forward with money when you are audited.
List of States and Ghost Policy Availability
Please refer to the table below for the list of states and ghost policy availability. For states where ghost policy is unavailable, we always have the option for you.
| Available | Unavailable |
| --- | --- |
| Alabama (AL) | California (CA) |
| Alaska (AK) | Colorado (CO) |
| Arizona (AZ) | Delaware (DE) |
| Arkansas (AR) | Hawaii (HI) |
| Connecticut (CT) | Idaho (ID) |
| Florida (FL) | Kentucky (KY) |
| Georgia (GA) | Louisiana (LA) |
| Illinois (IL) | Maine (ME) |
| Indiana (IN) | Maryland (MD) |
| Iowa (IA) | Massachusetts (MA) |
| Kansas (KS) | Michigan (MI) |
| Mississippi (MS) | Minnesota (MN) |
| Missouri (MO) | Oklahoma (OK) |
| Montana (MT) | Oregon (OR) |
| Nebraska (NE) | Pennsylvania (PA) |
| Nevada (NV) | Rhode Island (RI) |
| New Hampshire (NH) | Tennessee (TN) |
| New Mexico (NM) | Texas (TX) |
| North Dakota (ND) | Utah (UT) |
| Ohio (OH) | Wisconsin (WI) |
| South Carolina (SC) | |
| South Dakota (SD) | |
| Vermont (VT) | |
| Virginia (VA) | |
| Washington (WA) | |
| Washington DC | |
| West Virginia (WV) | |
| Wyoming (WY) | |
Workers' comp ghost policy may not be an easy type of policy to find, and not every insurance agent is willing to do the work for you. However, this list is constantly changing as some carriers may offer coverage to various class codes.
In any case, call us at 855-461-3143, and we can check for you. We will be able to give you updated information and have additional low-cost solutions to meet your workers' comp coverage needs.