Are you a gambler? Would you make a bet that would pay off a few hundred dollars if you won? But if you lost the bet you would lose everything you have. Of course, you would never make this bet.
However, if you are operating your contracting business without the proper insurance that is exactly what you are doing. You are essentially betting everything you own that you will not have any type of claim. The worst thing is the claim does not even have to have merit.
If you get sued you will still have to pay attorney fees to defend yourself and your business.
It is important to remember that even if the court rules in your favor you will still be out the costs of your legal defense.
So keep reading and I will explain to you how to protect yourself and your business. I will also provide insider tips that can save you money, differentiate you from your competitors, and increase your bottom line substantially.
As a contractor what are the worst situations that could happen to you or your business is uninsured?

You might be denied the opportunity to place a bid or be considered for a contract, due to lack of appropriate insurance.
If regulations in your State require you to possess insurance, you may face hefty fines, or risk losing your business license.
An accident or incident while on the job may cause physical harm or other forms of damage to clients or third parties. If you do not have insurance you will have to pay the legal costs and any judgments yourself.
If one of your workers is injured on the job you can be liable for large fines and even criminal prosecution if you do not have workers compensation insurance. This is required in almost every State if you have employees.
Even the most established businesses would be crippled by major claims against their business. Even if you win the case, the legal fees to defend the case are simply too much for most contractors to afford.
By obtaining insurance coverage, you are transferring these risks against your enterprise to an insurance company.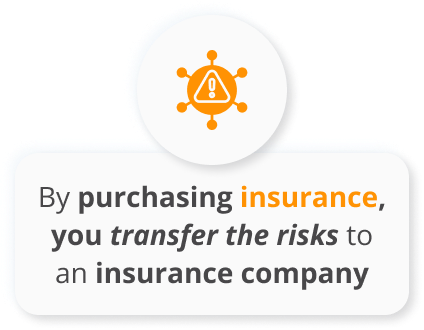 In your line of business, you are faced with risks. Some are obvious, while others are totally unforeseen. These unforeseen circumstances are what you should be shielding your business against by obtaining the forms of coverage that apply the most to you.
General contractors often need to meet insurance requirements surrounding liability claims, like property damage or theft, as well as workers compensation. But there are a few others that should at the very least be considered, in order to practice effective risk management. The six types of insurance we suggest you look into when creating your own insurance plan are listed below.
The Six Types of Insurance
1. General Liability Insurance
If your company is deemed legally responsible for bodily injuries or damages to client property, you should expect to bear the financial costs associated with those incidents. General liability coverage protects you in such cases, as it transfers the costs associated with these claims away from your business and to the insurer.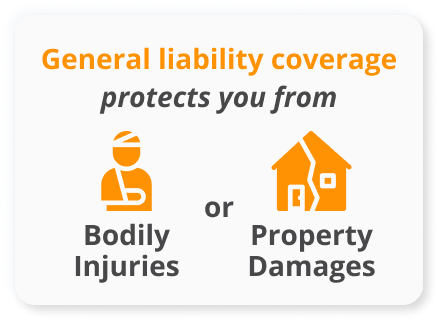 An example is you are roofing a client's home and one of your tools that you left unsecured drops onto the windshield of your client's car parked close by. In this case, your general liability is what will handle the claims that will be raised, including any legal expenses.
2. Worker's compensation Insurance
Worker's compensation insurance offers benefits and protections for workers injured on the job. Their medical expenses and their wages are covered by this kind of insurance.
In the construction industry, an accident can place your employees at a very high risk of hospitalization. During this time, they are incapable of working hence no income. With a worker's compensation policy their medical bills and a portion of their will be paid.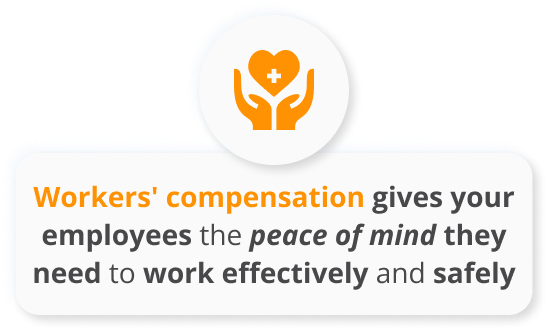 By having this coverage your employees will receive the peace of mind they need in order to work effectively and safely. You will have the security in knowing that you are covered and are not in violation of any State laws.
3. Commercial Auto Insurance
The insurance coverage we have spoken of thus far protects third-party property for the most part. Commercial auto, however, focuses on the automotive property of the insured itself.
While this is not specific to contractors, it is a very important policy for contractors who need to use vehicles to transport tools and employees as part of their project. If in the course of construction you use vehicles, these vehicles have to be commercially insured.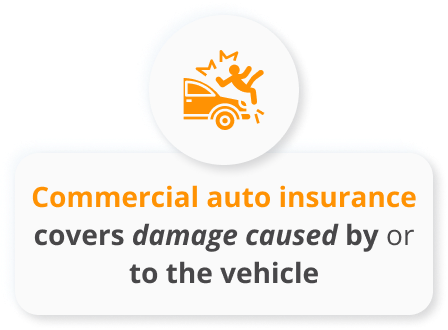 The commercial auto policy is designed to address damages caused by the vehicle or damages made to the vehicle itself. It also covers injuries to persons in case of an accident.
4. Inland Marine Insurance
lnland Marine insurance is designed to protect contractors' property. Damages to your property, plus loss of tools and other working materials, will be compensated by Inland Marine Insurance.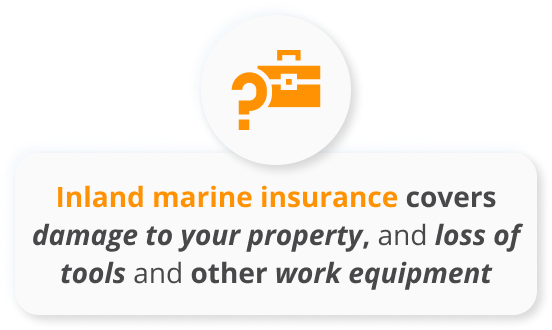 A contractor without their tools cannot achieve much since most of their work is done with them. Therefore, having this type of protection acts as a kind of commercial property insurance that the insured can use to keep their business assets in working order.
5. Professional Liability
This type of insurance is mostly used by consultants, architects, and design and build contractors to protect themselves against claims made by clients.
Contractors who do this work alongside their work in the trade, need to take on this policy to obtain full coverage in regards to customer dissatisfaction, design flaws, and failure to properly execute plans.
A professional liability policy also covers you against negligence on your part while undertaking your duties. Let's say that a contractor paints on a wet wall. Within minutes, the paint starts to peel off.
Your negligence in not checking if the wall was fit for painting cost the client money and time, especially if they had to temporarily suspend their business availability to take on construction projects which require your services. In this case, the claims raised will be addressed by the professional liability insurance policy.
6. Umbrella Insurance
Umbrella insurance is simply additional liability insurance that works by providing Insurance beyond the limits of your other liability policy limits. It is sold in increments of $1 million.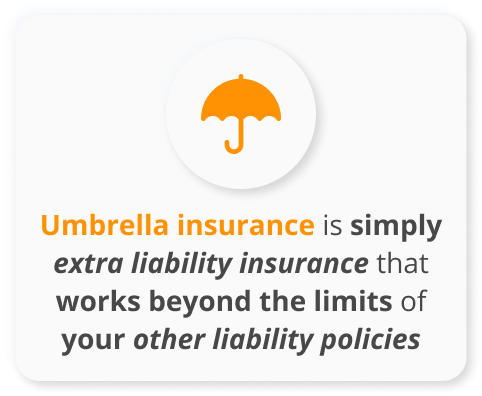 Thoughts on Being Properly Insured
Contractors must be well insured for the smooth running of their business. A well-insured contractor is appealing to clients because the certificate of insurance proves to them that they will be compensated promptly and professionally, in case something goes wrong.
Workers also are likely to remain employed with a construction business longer when that business has the proper insurance. In case they are in an accident, they can rest easy knowing the medical bills will be taken care of, in addition to income replacement for the days they are unable to work.
Contractors Liability.com has the capability to provide quotes for the hard-to-place risks and get you insured quickly and conveniently. We have the experience to analyze and recommend the appropriate Contractors Insurance Coverage.
Best of all, you can get a free, no-obligation quote in minutes. If you have any questions about this or any other insurance needs feel free to contact the knowledgeable agents at ContractorsLiability.com at 773-985-2176 or go to our website for a QUOTE. We offer 5 Star customer service and can often get you insured in under an hour.