If you are thinking about becoming a business owner of a brand new handyman business, you might have a lot of questions. Questions like:
What's the first step?
What kind of insurance policy to I need?
What are the laws I need to know as a small business?
What type of work will I do?
They are all important questions and simple enough when you have the right information. In this post, we will talk about handyman work. In specific, what services you offer, the laws you should look up, your business plan, and how that will all affect the most important question, how much insurance coverage you need.
STEP 1: Type of Work Offered
When you first came up with the idea to start a handyman business, you might have thought about what type of work you want to offer. If you didn't, now it the time to think about it. This will affect everything from what marketing you need to do to how much handyman insurance you will need and of what kinds.

You might think that you can do everything. On the other hand, you might think you are supposed to do everything.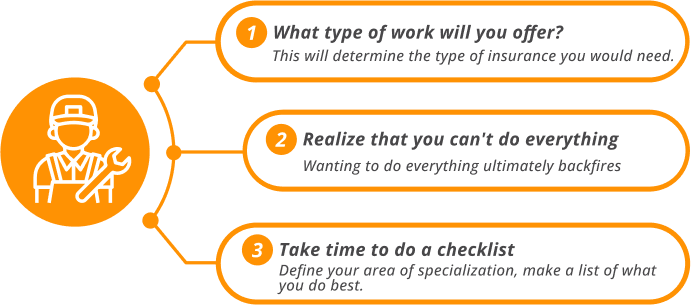 In reality, most handymen can't do it all, even if they wanted to. That's what specialization is for. It's true that you can do more things than the average person on a jobsite, but that doesn't mean you can do everything.
Take some time to list everything you know how to do. Then, look at that list and think about what you would like to get paid to do for others. Then, move on to the next step!
STEP 2: Look Up the laws
Laws differ in every state. Some require you to have licenses to do HVAC work while others need you to have proof of coverage in certain areas based on the job site you work on and the work you do. One of the best ways to end your career as a business owner is to start a business and then realize you don't have the right license.
Take that list you made. It's time to do some reading on the laws in your state or the states that you want to work in. You'll need to find out which services will fit with the laws you have to work by. When you run into laws requiring insurance, you'll need to keep in mind your startup costs. Equipment insurance, commercial auto insurance, umbrella insurance, and general liability insurance can build up quickly when you are just starting. If there are cost limitations or job limitations, think about how you could grow in the future as well as plan for today. Use all this information to narrow your list.
STEP 3: Write Your Business Plan
Not everyone is your client. Not all marketing will work. Know what you need to charge.

This step is the easiest to explain but the hardest to do. You will need to come up with a business plan that outlines what types of insurance coverage you will need, what you will charge, who your target market is, and how you plan to get to them.

There are many online templates that can help you with this. In fact, writing a business plan is the best way to make sure your idea is a viable company. Once you've written your business plan, sit on it and give it to someone to read. Once you're sure you've got it right, it's time for the most important steps.
STEP 3.5: Get Your Business License
When you wrote your business plan, you probably saw that you needed some kind of business license. This is easy and can be gotten by either doing yourself online or by going to a lawyer or accountant. In fact, these are the people that can give you the best advice on how to file and how to keep your business operating paper wise.

STEP 4: Insurance Coverage
WIth your business plan, business license, and services in tow, it's time to talk to an insurance company or insurance agent. You'll need to think about things like the likely hood of property damage to your job site, bodily injury to yourself or your employees, even things like stolen tools or the cars you'll drive.

In the past, we've written about the types of handyman insurance a handyman business will need. These can include things like:
Workers Compensation

which helps pay for the medical bills of you and your employees that receive personal injury or bodily injury while on site.

Commercial Auto Insurance

that covers your business cars and trucks in case of accident or worse, they get stolen.

General Liability Insurance Policy

Great for protecting against a myriad of things and sometimes the only type of insurance you will need.

Umbrella Insurance

Usually used as an extension of your handyman liability insurance.
No matter what type of business insurance you choose to get to protect yourself, it's always smart to obtain a free quote on the insurance cost and coverage from multiple reputable insurance agents. Talking to an insurance agency in person will make sure that you receive an insurance quote that best fits with your offered handyman services and needs.
They will be able to provide you with explanations and answers for each of your handyman insurance coverages and insurance premium questions as well as provide you with any proof of insurance that you may need.