Are you eager to start or grow your general contracting business in Texas? Navigating the licensing requirements and staying up-to-date with local regulations can be challenging. This comprehensive guide will walk you through obtaining your general contractor license in Texas, insurance and bonding requirements, and navigating city and county regulations. You'll also find tips on growing your business and ensuring customer satisfaction. Let's dive in!
Understanding General Contractor License in Texas
In the state of Texas, contractor licensing requirements can be quite complex. The state does not have a single, uniform licensing system for all contractors. Instead, requirements vary for general contractors and specialized trades, with a heavy emphasis on local municipality regulations. Failure to comply with these regulations can result in Texas contractor licensing penalties, including fines and possible jail time.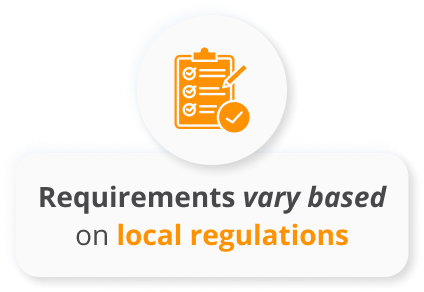 Navigating this intricate system of heating systems can be challenging, so let's break down how to approach it.
General Contractor License in Texas
Unlike many states, Texas does not require a state license for general contractors. However, local requirements may apply depending on the city or county you plan to work in. To determine if a license is required for your specific location, it's best to contact your local licensing authority and search for "general contractor licenses" in your city.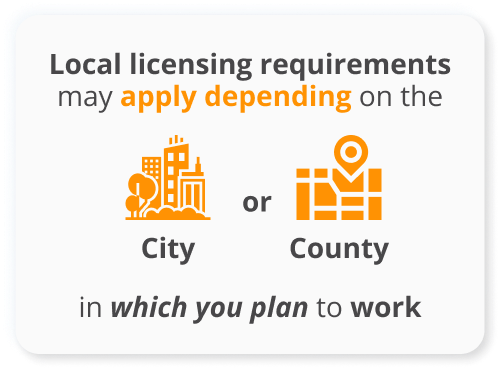 Doing so will help you abide by local laws and avoid potential issues.
Specialized Trades
A state-wide Texas contractor license is required for specialized trades such as electricians, plumbers, and HVAC technicians. The licensing process for these trades, including the Texas electrician licensing exam, may involve exams, insurance requirements, and specific training or experience related to obtaining a contractors license.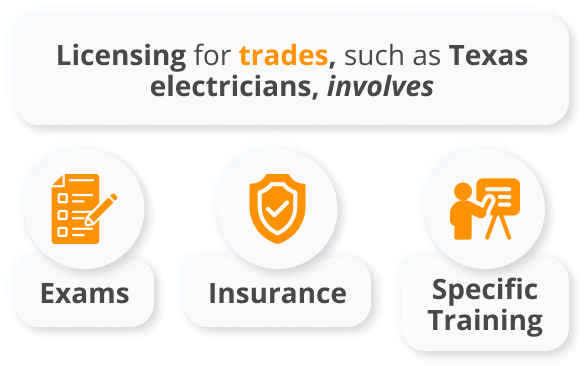 To apply for a plumbing contractor license, you must:
Possess a Master Plumber license
Complete a 24-hour training course with the Texas State Board of Plumbing Examiners (TSBPE)
Provide proof of $300,000 of commercial liability insurance
Steps to Obtain Your General Contractor License in Texas
Now that you understand the basics of Texas contractor licensing requirements, let's explore the steps you need to take to obtain your general contractor license. These steps include registering your business, researching local requirements, and obtaining any necessary permits for your specific trade or project.
Register Your Business
The first step in obtaining your Texas contractor license is registering your business. You'll need to choose a business structure such as a sole proprietorship, partnership, LLC, or corporation. Keep in mind that each structure has its advantages and drawbacks. For example:
Sole proprietors are personally liable for any financial losses incurred by the business.
Partnerships allow for shared decision-making and liability.
LLCs provide personal liability protection and flexibility in management.
Corporations offer limited liability and the ability to raise capital through stock sale.
Once you've chosen a structure, you can register your business with the Secretary of State and obtain an Employer Identification Number (EIN) from the Internal Revenue Service (IRS).
Research Local Requirements
As mentioned earlier, local requirements for general contractors may vary depending on the city or county you plan to work in. Consulting with your local licensing authorities is key to fulfilling the requirements in your area. Keeping abreast of any changes to local requirements will help you evade potential penalties and sustain your status as a licensed contractor.
Obtain Necessary Permits
While Texas doesn't require a statewide general contractor license, you may need to apply for permits through your local municipality. The process for obtaining permits varies depending on local regulations and may involve submitting an application, providing documentation, and paying a fee. Obtaining permits can take anywhere from a few days to a few weeks, so be sure to plan accordingly.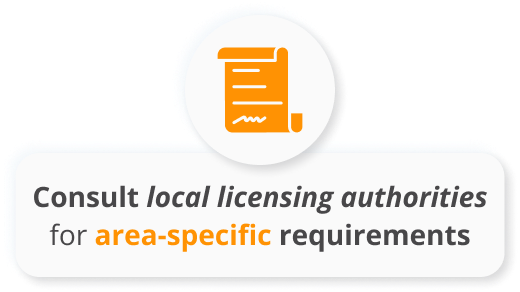 Insurance and Bonding for Texas General Contractors
In addition to licensing, insurance and bonding are essential components of operating a successful general contracting business in Texas. Minimum general liability insurance coverage or a construction bond may be mandatory in cities of Texas. Compliance with this requirement must be ensured. This section covers liability insurance, workers' compensation, and surety bonds.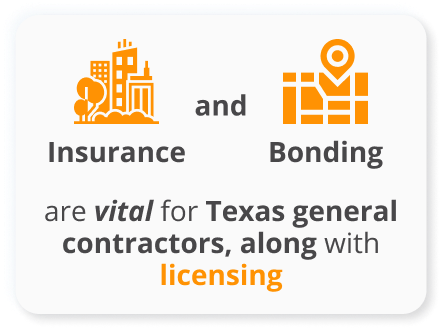 Liability Insurance
Liability insurance protects your business against injury, damage, and defamation claims. It provides coverage for monetary claims resulting from property damage, accidents, and injuries to third parties.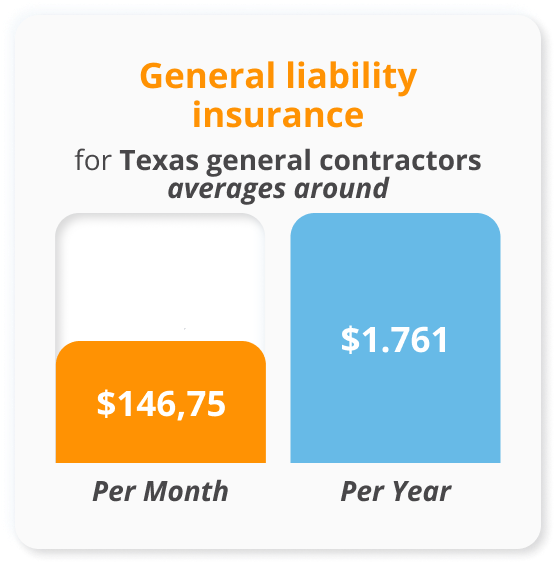 The average annual cost of general liability insurance for general contractors in Texas is estimated at $1,761. Liability insurance can help safeguard your business and provide peace of mind.
Workers' Compensation
Texas workers' compensation requirements:
Most private employers are not required to carry workers' compensation coverage.
However, those who contract with government entities must have workers' compensation insurance.
Failure to carry workers' compensation when required can result in fines, penalties, and other legal repercussions.
Ensuring the proper workers' compensation coverage is in place is essential if you work with government entities.
Surety Bonds
Surety bonds, such as Texas contractor license bond, are required for certain trades and locations in Texas. These bonds protect the local licensing authority and your customers, ensuring you fulfill your contractual obligations and abide by all applicable laws and regulations. The bond amount varies depending on the license type and location, typically ranging from $5,000 to $25,000.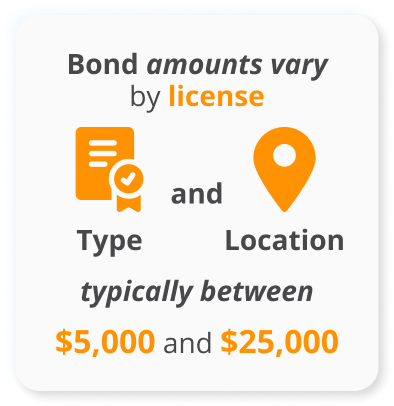 If you must have a surety bond, be prepared to factor this cost into your overall business expenses.
Navigating City and County Regulations
As you've seen, city and county regulations play a significant role in obtaining a general contractor license in Texas. This section offers a deeper insight into the specific regulations for general contractors in:
Austin
Dallas
Houston
San Antonio
Despite the unique set of rules in each city, grasping the nuances of each will streamline your navigation of the process.
Austin
In Austin, general contractors must obtain both a general contractor permit and a project-based permit. The city mandates that contractors register as general contractors and secure a project-based permit for each job.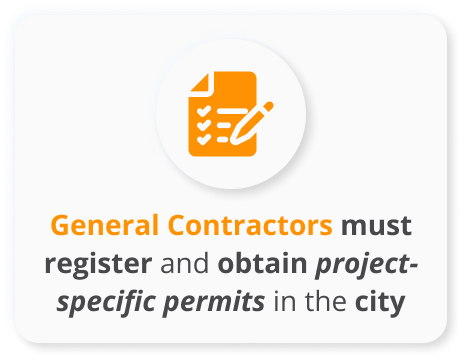 Keeping updated with these requirements will aid in compliance and evasion of potential penalties.
Dallas
Dallas requires contractors to apply for a contractor registration, depending on the license type they are attempting to obtain. To access the necessary information and forms, contractors must create a login and visit the city's Contractor Portal.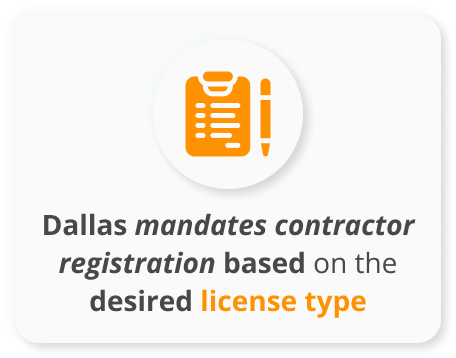 Having a clear understanding of the registration requirements in Dallas bolsters the legal operation of your business in line with local regulations.
Houston
Houston does not require a general contractor license, but permits are needed on a job-by-job basis. Subcontractors and trades in Houston can obtain permits for:
Demolition
Remodeling
Earth Hauling
Other related permits
Acquainting yourself with the permit requirements in Houston helps to evade potential issues and uphold a positive reputation with clients and local authorities.
San Antonio
In San Antonio, contractors are required to register with Development Services and obtain liability insurance. There are two types of licenses available for general contractors: Home Improvement Contractor and Residential Building Contractor.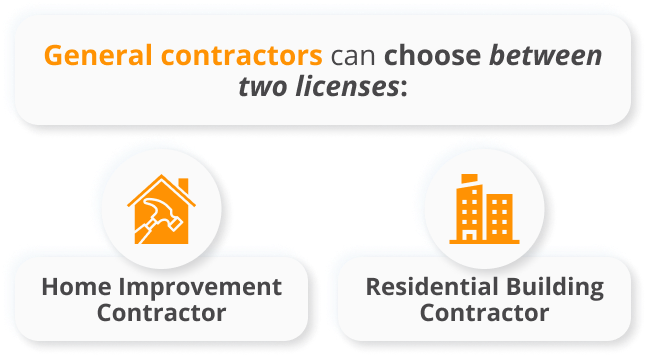 Grasping the specific requirements for your license type in San Antonio guarantees your business's adherence to local regulations.
License Renewal and Reciprocity
License renewal and reciprocity are important considerations for general contractors in Texas. In this section, we'll discuss the renewal process for various trades, as well as the limited reciprocity agreements Texas has with other states.
Keeping updated on these processes and participating in on the job training aids in maintaining your license and broadening your business opportunities.
License Renewal
The process for renewing your general contractor license in Texas varies depending on the trade and location. To renew your license, visit the Texas Department of Licensing and Regulation website at tdlr.texas.gov, where you'll find information on the renewal process, continuing education requirements, and fees.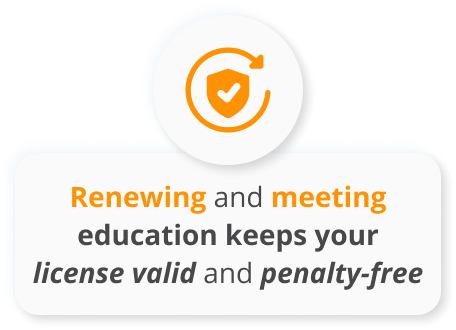 Timely license renewal and keeping abreast of continuing education requirements contributes to license validity and avoidance of potential penalties.
Reciprocity Agreements
Texas has limited reciprocity agreements with other states for certain trades, including texas general contractor license. These agreements allow contractors to obtain a license in one state based on their license in another state, making it easier to work in multiple states without obtaining additional licenses. Currently, Texas has established reciprocal licensing agreements with South Carolina and Georgia for general contractor licenses.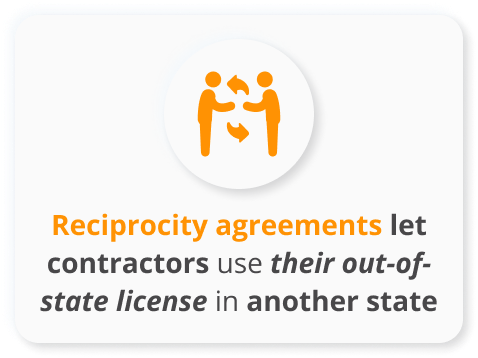 A clear understanding of these agreements facilitates business expansion beyond Texas.
Frequently Asked Questions (FAQ)
These are common questions about general contractor's license in Texas.
To become a General Contractor in the State of Texas, you must register your business with either the state or county, depending on your business structure. No age, experience, or educational requirements are necessary; however, you will have to obtain a contractor license bond or insurance and complete all application requirements before submitting the form and applicable fees.
Obtaining a general contractor's license in Texas is relatively straightforward, as the state does not require a license. However, registering your business is still necessary to become a legal contractor.
Getting a contractor license in Texas typically requires taking out a bond between $5,000 to $25,000, depending on the amount and your credit score.
To start a general contractor business in Texas, you must register your business at the state level, obtain a license from the state, buy insurance and secure the surety bonds. Additionally, you should conduct market research to ensure success.
No, general contractors do not need a state license in Texas; however, local requirements may apply.