Building Success: Guiding your General Contractor License in Pennsylvania
Discover the essentials of contractor licensing in Pennsylvania with our in-depth guide. Learn about local municipality requirements, home improvement contractor registration, insurance necessities, and more to ensure your business thrives in the Keystone State. Whether you're a seasoned contractor or just starting, this article provides the tools and knowledge to comprehend the industry confidently.
General Contractor License in Pennsylvania
If you're a general contractor in Pennsylvania, it's important to understand that the licensing regulations in this state are unique compared to other states. To operate a successful business, it's essential to have a comprehensive knowledge of the local licensing landscape and ensure compliance with the relevant regulations. Non-compliance can result in penalties, fines or even suspension of business activity, making it crucial for contractors to be aware of the specific requirements and guidelines for obtaining and maintaining a license in Pennsylvania. By adhering to these regulations, contractors can avoid legal and financial repercussions and demonstrate a commitment to ethical business practices.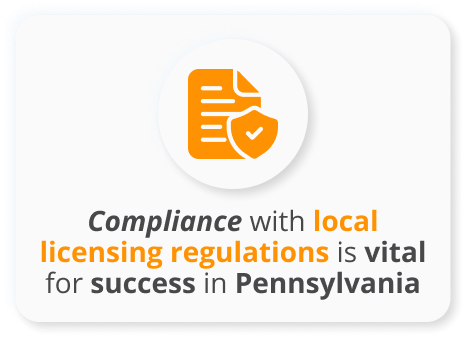 A Distinctive Licensing Landscape
Pennsylvania stands out with its decentralized approach to contractor licensing. Unlike some states that require general contractors to obtain a state-level license, Pennsylvania places this responsibility in the hands of local municipalities. This means that licensing requirements, processes, and regulations can vary significantly depending on the area where a contractor chooses to operate.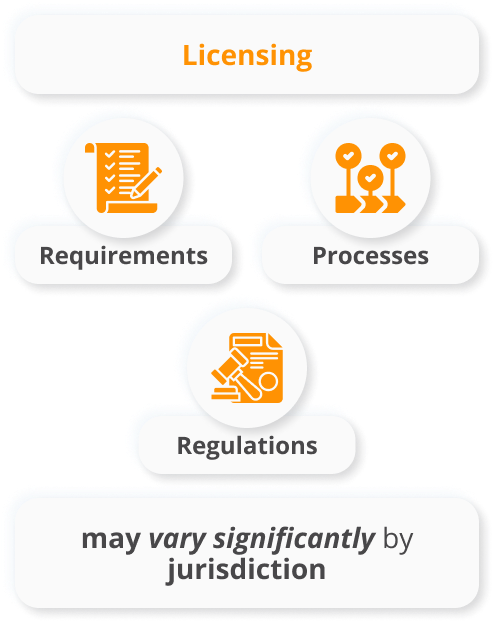 Local is Key
The absence of a state-level licensing requirement for general contractors in Pennsylvania underscores the importance of engaging with local municipalities. Contractors must proactively seek out and comply with each locality's licensing and permit requirements, ensuring that they meet all necessary criteria to undertake construction and home improvement projects legally.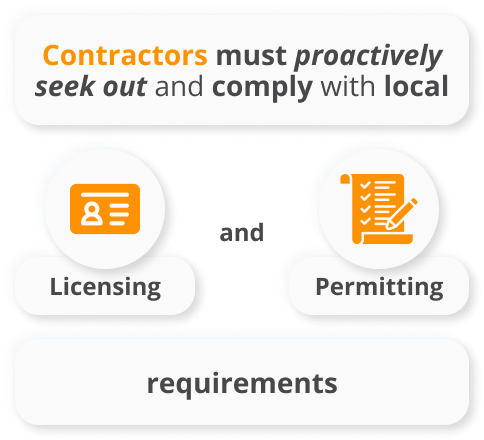 Home Improvement Contractor Registration
While state-level licensing may not be a prerequisite, there is a notable exception for those involved in home improvement work. Contractors who handle more than $5,000 worth of home improvement projects per year must register with the Attorney General's Office. This registration is a critical step, ensuring that contractors are accountable and that homeowners are protected.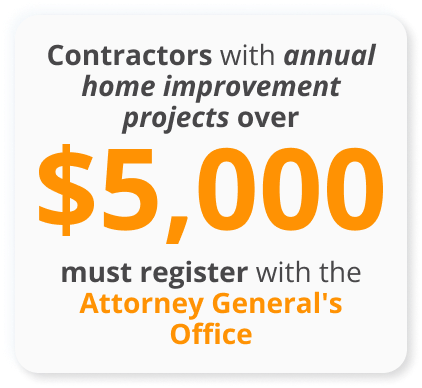 Laying the Groundwork
As we delve deeper into the subsequent sections, we will explore the intricacies of local licensing, the specifics of home improvement contractor registration, and the vital role of insurance in safeguarding your business. Whether you are a seasoned contractor or just starting out, this guide aims to provide a comprehensive understanding of the contractor licensing landscape in Pennsylvania, laying the groundwork for a successful and compliant contracting practice.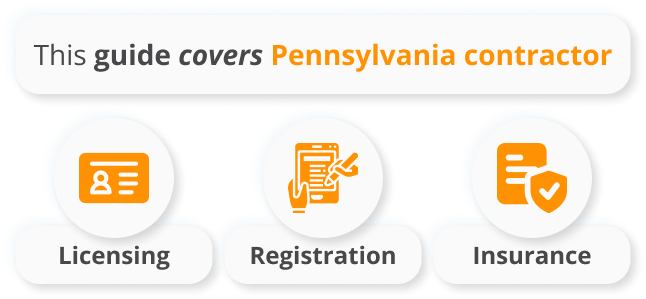 The Home Improvement Contractor Registration, for General Contractor License in Pennsylvania.
In Pennsylvania, contractors who engage in home improvement projects exceeding $5,000 in value per year are subject to specific registration requirements. This section provides detailed information on the Home Improvement Contractor Registration, outlining the steps and documentation required to comply with this mandate.
Understanding the Requirement: The Home Improvement Contractor Registration is a legal requirement enforced by the Pennsylvania Attorney General's Office. Its primary purpose is to protect consumers by ensuring that contractors are accountable and that there is a transparent record of those operating in the home improvement sector.
Who Needs to Register? Any contractor whose home improvement work totals more than $5,000 in a calendar year is required to register. This includes a wide range of services such as repairs, replacements, remodeling, demolition, and installation work on residential properties.
Steps for Registration:
Prepare Necessary Documentation: Before starting the registration process, ensure you have all required documents at hand. This may include business identification information, proof of insurance, and details of any previous home improvement work.
Complete the Application Form: The registration application form can be found on the Pennsylvania Attorney General's Office website. Ensure that all information provided is accurate and complete.
Submit Proof of Insurance: Contractors are required to submit proof of personal injury and property damage insurance as part of the registration process.
Pay the Registration Fee: A non-refundable fee is required to process your registration. Make sure to check the current fee amount and include it with your application.
Maintaining Your Registration:
Renewal: The Home Improvement Contractor Registration is valid for two years. Contractors must renew their registration before it expires to continue operating legally.
Update Your Information: If any of your business details change during the registration period, you are required to update your registration information promptly.
Benefits of Compliance: Registering as a home improvement contractor not only ensures compliance with state regulations but also enhances your credibility in the eyes of consumers. It demonstrates a commitment to transparency and accountability, building trust and potentially leading to more business opportunities.
A Commitment to Professionalism: By adhering to the Home Improvement Contractor Registration requirements, contractors in Pennsylvania showcase their dedication to professionalism and consumer protection. This registration becomes a valuable asset, reflecting your business's integrity and commitment to quality service.
Insurance Requirements for General Contractor License in Pennsylvania
Operating as a contractor in Pennsylvania entails navigating a myriad of responsibilities, one of the most crucial being securing the proper insurance coverage. This section provides an overview of the typical insurance requirements for contractors in the state, emphasizing the importance of adequate protection.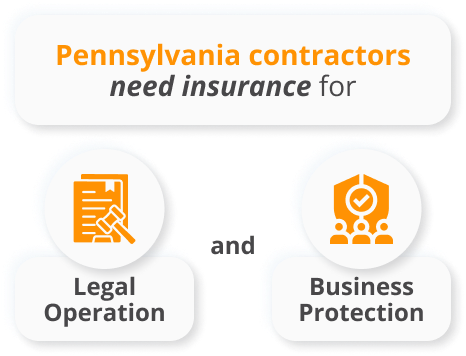 Necessary Insurance Types:
General Liability Insurance: Serving as a fundamental layer of protection, this insurance shields contractors from claims related to bodily harm, property damage, and personal injury that might arise during work operations. It plays a crucial role in protecting your business's assets and upholding a positive reputation within the industry.
Workers' Compensation Insurance: Pennsylvania's regulations require contractors with employees to provide workers' compensation insurance, ensuring that workers who incur job-related injuries or illnesses have access to medical care and compensation for time lost at work.
Auto Insurance: Contractors who operate vehicles for business-related activities must have commercial auto insurance to address potential damages or injuries stemming from vehicle accidents.
Equipment Insurance for Contractors: Safeguarding your tools and machinery from theft, damage, or vandalism is essential, making contractor's equipment insurance a vital component of your insurance portfolio.
Frequently Asked Questions (FAQ)
These are common questions about General Contractor License in Pennsylvania.
Pennsylvania General Contractor licenses are not required in the state. All contractors performing at least $5,000 in home improvement each year have to apply to the Attorney General.
Contractors must register via email or through the Registration Page. See the details. Applicants will be accompanied by $50 non-refundable fees paid by Commonwealth of Pennsylvania.
Only crane operators and asbestos and lead removal companies have a licence required. Although the state has no specific licensing requirements for home improvement contractors, most must register with a governmental agency.
How can we be contractors? Tell me the specialization of this job? Getting hired in Pennsylvania varies according to your specialization. Obtain a valid license. … Get a permit. … Make an organization. . Get Business Insurance.