Build with Confidence in North Carolina: Navigating the Path to Professional Licensing and Beyond! Get your General Contractor License in North Carolina.
Discover the key steps to secure your contractor's license in North Carolina with our comprehensive guide. Stay informed about the NCLBGC's pivotal role, licensing prerequisites, and the latest educational resources to elevate your construction business. Master the licensing process and thrive in North Carolina's booming construction sector.
Introduction to the NCLBGC's Role and Responsibilities
Welcome to the foundational gateway of becoming a licensed contractor in North Carolina. The North Carolina Licensing Board for General Contractors (NCLBGC) stands as the cornerstone of the construction industry's regulatory framework within the state. This authoritative body is tasked with a multifaceted role that ensures the integrity and professionalism of the contracting sector.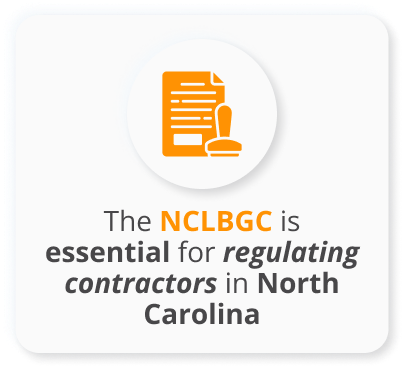 The Pillars of NCLBGC:
Licensing: The NCLBGC is the gatekeeper for entry into the professional contracting community. It administers the licensing process, meticulously reviewing applications to ensure that all candidates meet the stringent requirements set forth by the state. This process is designed to verify that all contractors possess the necessary skills, knowledge, and ethical standards to serve the citizens of North Carolina.
Enforcement: Upholding the law is a critical function of the NCLBGC. The board actively enforces contractor licensing laws and regulations, ensuring compliance and fair play. This enforcement safeguards the market, allowing for healthy competition and protecting the interests of both contractors and consumers.
Education: Knowledge is power, and the NCLBGC empowers contractors through a robust educational framework. The board offers continuing education courses that keep contractors abreast of the latest building codes, technological advancements, and best business practices. This commitment to education fosters a culture of continuous improvement and excellence within the industry.
Consumer Protection: The NCLBGC is also a champion of consumer rights. It provides valuable information to the public about contractor licensing, helping consumers make informed decisions when hiring professionals for their construction needs. Additionally, the board investigates complaints against contractors, ensuring that any grievances are addressed and resolved fairly.
The NCLBGC's dedication to these key functions underscores its commitment to maintaining a high standard of quality and reliability in North Carolina's construction industry. Through its rigorous licensing process, steadfast enforcement, educational initiatives, and consumer advocacy, the NCLBGC plays a pivotal role in building a trustworthy and competent contracting workforce.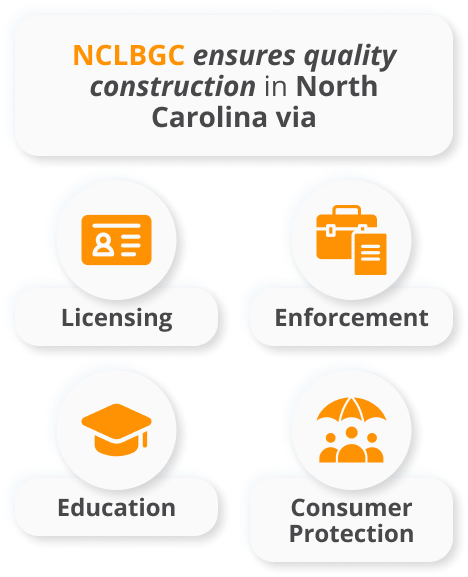 Licensing Requirements for North Carolina Contractors
Age and Citizenship Prerequisites:
Minimum Age: All applicants must be at least 18 years old to be eligible for a contractor's license in North Carolina.
Proof of Legal Status: Applicants must be a U.S. citizen or a qualified alien to meet the licensing requirements. This ensures compliance with federal and state laws regarding employment and business operation.
Mandatory Criminal Background Checks:
Good Moral Character: A criminal background check is a standard procedure to assess the applicant's moral character. North Carolina requires this to ensure that licensed contractors uphold the law and maintain the industry's integrity.
Fingerprinting: The process may involve submitting fingerprints to aid in a thorough background investigation.
Financial Responsibility Criteria:
Surety Bond or Letter of Credit: Applicants must demonstrate financial responsibility, which can be fulfilled through a surety bond or an irrevocable letter of credit. The specific amount required will depend on the license classification being sought.
Net Worth or Working Capital: Depending on the classification, applicants must meet certain financial benchmarks, such as a minimum net worth or a specified amount of working capital, to ensure they can responsibly manage a contracting business.
Experience, Education, and Examination for Licensure
Experience Requirements:
Residential Contractors: Must have at least two years of relevant experience, typically as a journeyman in carpentry or a related trade, ensuring they possess the practical skills necessary for residential construction.
General Contractors: Required to have at least four years of experience, which provides a broader range of knowledge suitable for managing large-scale and diverse construction projects.
Education Credentials:
Formal Education While not always mandatory, having formal education in construction management, engineering, or a related field can be beneficial and, in some cases, may be used to supplement experience requirements.
Continuing Education: Contractors may need to complete certain educational courses as part of the licensing process or for license renewal, staying updated with the latest building codes and industry standards.
Examination Requirements:
Trade-Specific Exams: General contractors and residential contractors performing specialized work such as plumbing or electrical services must pass relevant trade examinations. These tests assess the applicant's knowledge of building codes, trade skills, and safety regulations.
Exam Preparation: It is advisable for applicants to engage in study courses or exam prep classes to ensure they are well-prepared for the licensing examination.
Insurance and Financial Proof for Contractor Licensing
General Liability Insurance:
Essential Coverage: Contractors must secure general liability insurance, which provides critical protection against claims of property damage, bodily injury, and other risks that can occur during construction projects.
Minimum Coverage: The policy must meet the state-mandated minimum coverage amounts, ensuring sufficient financial backup in the event of accidents or damages.
Proof of Insurance: A certificate of insurance must be submitted as part of the licensing application, serving as verification that the contractor meets North Carolina's insurance requirements.
Workers' Compensation Insurance:
Employee Protection: For contractors with employees, obtaining workers' compensation insurance is mandatory. This insurance covers medical costs and lost wages for employees injured on the job.
Compliance with State Laws: The policy must meet the state-mandated minimum coverage amounts, ensuring sufficient financial backup in the event of accidents or damages.
Financial Responsibility:
Surety Bond or Letter of Credit: As a demonstration of financial responsibility, contractors must provide a surety bond or an irrevocable letter of credit. This financial guarantee assures clients that the contractor is capable of fulfilling contractual obligations.
Amount Dependent on License Type: The required amount of financial backing varies depending on the contractor license classification, reflecting the scale and scope of projects the contractor is permitted to undertake.
Proof of Financial Stability:
Audited Financial Statements: Applicants for certain license classifications must submit audited financial statements, showcasing a minimum working capital that aligns with the license's financial limitations.
Bond Requirements: While a bond can be used to meet net worth requirements, contractors must typically demonstrate sufficient financial stability to obtain a bond, ensuring they are financially equipped to manage construction projects responsibly.
The Application Process for Contractor's License in North Carolina
In 1925 the North Carolina General Assembly established the authority of the North Carolina Licensing Board for Contractors, amending Chapter 318 of the Public Laws, designed for the purpose of safeguarding life, health and property and to promote public welfare.
Find in this link the 2023 Laws and Regulations Applicable to General Contracting in the State of North Carolina.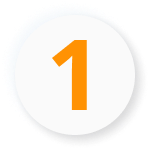 Preparation for Application:
Gather Necessary Information: Ensure you have all the required personal and business information, including your Social Security number, business registration details, and a physical business address in North Carolina.
Understand the Classification: Know the specific license classification you are applying for, as each has unique requirements and forms.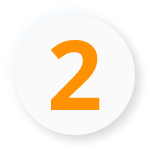 Completing the Application Form:
Accurate Details: Fill out the application form with accurate and up-to-date information to avoid delays or rejections.
Review Requirements: Double-check that you meet all the criteria for the license you are seeking, including age, experience, and financial requirements.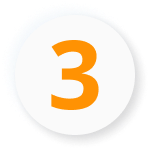 Notarized Affidavit:
Affirmation of Truth: Sign an affidavit in the presence of a notary public, affirming that all information provided is true and that you have complied with all licensing requirements.
Legal Verification: The notarized affidavit is a legal document that adds credibility to your application and is a mandatory step in the process.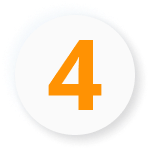 Supporting Documents:
Proof of Insurance and Financial Responsibility: Attach your certificate of insurance and proof of financial responsibility, such as a surety bond or letter of credit.
Background Check Documentation: Include the results of your criminal background check, showcasing your good moral character.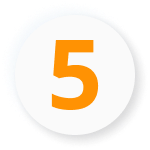 Application Fee:
Non-Refundable Fee: Prepare to pay the non-refundable application fee, which varies based on the license classification.
Payment Method: Check the accepted methods of payment (e.g., check, money order) and ensure that the payment is made out correctly.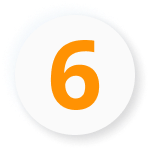 Submission of Application:
Review Before Sending: Conduct a final review of your application packet to ensure completeness and accuracy.
Send to the NCLBGC: Submit your application, supporting documents, and fee to the North Carolina Licensing Board for General Contractors (NCLBGC).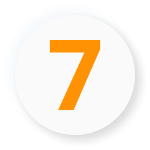 Post-Submission:
Confirmation of Receipt: Wait for confirmation from the NCLBGC that your application has been received.
Follow-Up: Be prepared to provide additional information or clarification if requested by the NCLBGC during their review process.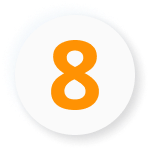 Awaiting Decision:
Processing Time: The processing time can vary, so be patient while the NCLBGC reviews your application.
Notification of Outcome: You will be notified of the board's decision, and if approved, you will receive your contractor's license.
License Classifications and Financial Requirements
Understanding License Classifications:
Building Contractor Classification: This classification is comprehensive, encompassing commercial, industrial, institutional, and residential building construction, including demolition and specific specialty trades.
Residential Contractor Classification: Tailored for contractors focusing on residential units, this classification covers construction, demolition, and ancillary site work, as well as specialty trades related to residential construction.
Financial Requirements for Building Contractors:
Unlimited Building Contractor License: Requires audited financials demonstrating a minimum of $150,000 in working capital or a corresponding bond.
Intermediate Building Contractor License: Applicants must show at least $75,000 in working capital or meet the bond requirement.
Limited Building Contractor License: A minimum of $17,000 in working capital is necessary, or a net worth of at least $80,000, or the bond equivalent.
Financial Requirements for Residential Contractors:
Unlimited Residential Contractor License: Similar to the building contractor, this requires $150,000 in working capital or a bond to match.
Intermediate Residential Contractor License: Requires proof of at least $75,000 in working capital or an equivalent bond.
Limited Residential Contractor License: Must have at least $17,000 in working capital, a net worth of $80,000, or a bond that satisfies the requirement.
Bond Requirements:
Understanding the Bond: A bond guarantees that the contractor will adhere to their contractual and legal obligations.
Meeting Net Worth Through Bonding: While a bond can be used to meet net worth requirements, it's important to note that surety companies typically require financial statements and net worth that comply with state requirements.
Financial Criteria:
Assessing Financial Health: Contractors must evaluate their financial health to determine if they meet the state's requirements or need to secure a bond.
Preparation of Financial Statements: Audited financial statements may be necessary to demonstrate working capital and net worth, which are critical for higher-tier licenses.
Frequently Asked Questions (FAQ)
These are common questions about General Contractor License in North Carolina.
The NCLBGC is the regulatory body responsible for issuing and renewing contractor licenses, enforcing licensing laws, investigating complaints, and providing resources and education for contractors in North Carolina.
A general contractor license is required for projects valued over $30,000. For smaller projects, check local municipality requirements as they may vary.
Financial requirements include providing proof of financial responsibility, such as a surety bond or letter of credit, with specific net worth or working capital depending on the license classification.
While a bond can be used to meet net worth requirements, surety companies typically require sufficient financial statements and net worth that comply with the state's requirements.
Contractors must obtain general liability insurance and, if they have employees, workers' compensation insurance.